The best bikini brands are keeping an eye on the trends that are popping. Designers and retail experts are searching for quality materials that result in key pieces for the next Spring/Summer seasons.
With consumers wanting to express their sense of style, there is a lot to consider. From colors and prints down to understanding what cuts, support, and fabrics you should present your consumers with, here is our guide with the latest 2023 swimwear trends as well as a 2024 trend forecast.

1. Vivid Colors
Vibrant and cheerful colorways are trending. Whether it be bathing suits or bikinis, we will see a massive color splash in the following summer seasons.
Fashionable colors such as greens, pinks, oranges, lilac, and blue tones are also an investment for creating color-blocking schemes from the runways to the beach.
2. Puff Sleeve Halter Bikini
A fresh take on nostalgic fashion is on the rise. Both cutesy and comfortable, halter bikini tops with ruffles or puff sleeves like this are aimed at comfort and style. Not only do they give out retro vibes, but they are also just the right trend for larger busts, offering a hyper-feminine aesthetic.
On top of that, high-waisted bikini bottoms continue to be a super flattering pick for various body types, as they offer more coverage.
Not only shapes, but dimensional details, emerge to add a special something to bikinis. Brands are even incorporating trims as well as 3D detailing to create unique and edgy looks.
3. Matching Skirt Sets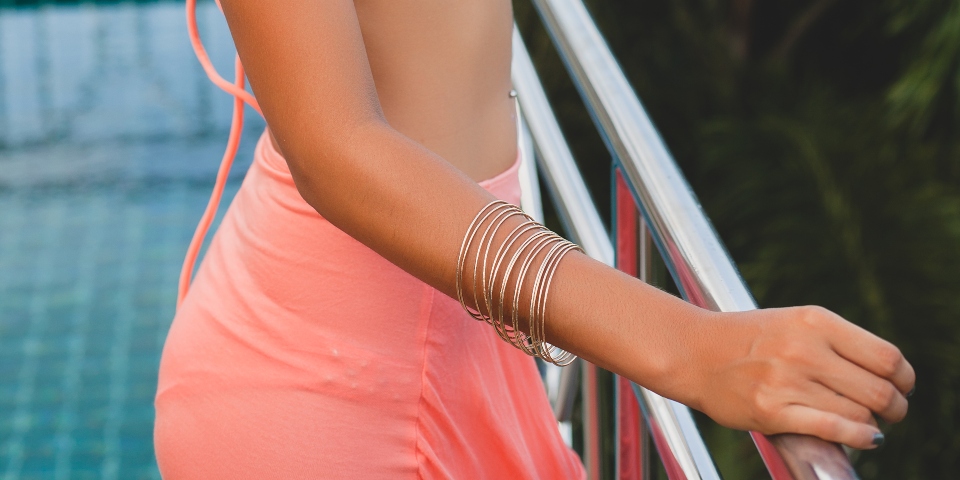 Beachwear cover ups are no longer the only option available in resort wear. In fact, matching a bathing suit with a skirt or a trendy pareo skirt set is turning into a sexy, effortless chic way to style a beach look in multiple ways.
Besides offering more coverage whenever needed, matching skirt sets are an opportunity to show off a more fashionable side, specially for consumers that are a little extra.
Mini skirts can be layered over the bikini bottoms or one piece to double down on the look and turn it into a whole new outfit.

4. Metallic Effects
A touch of shine is one of our favorite swimsuit trends, mainly when rays of sunshine hit. Just dazzling! Shimmering fabrics such as this one often contain metallic fibers to add a touch of elegance to any beachwear for women.
Depending on what is available on the market, swimwear manufacturers can either buy standard swim fabric or textured fabric.
5. Bold Prints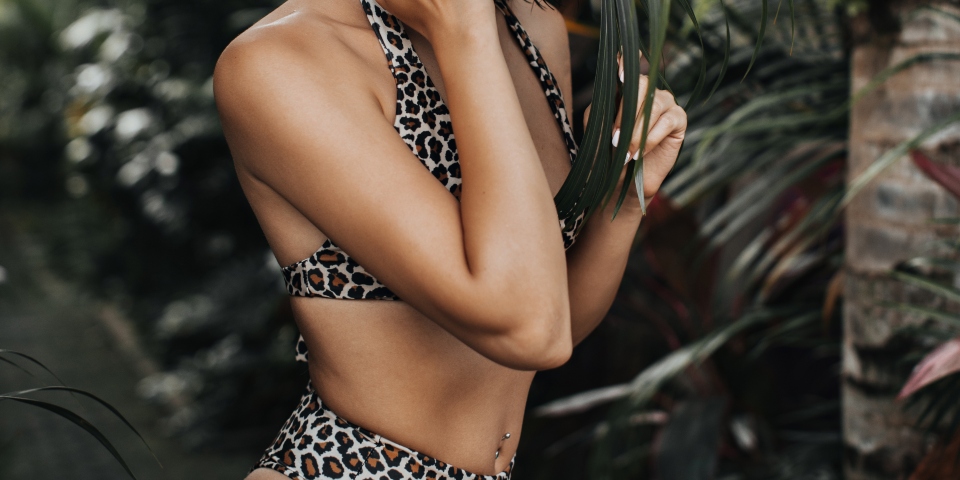 The choice is endless, from tropical prints to groovy swirls, not to mention floral patterns, stylish animal prints, or timeless stripes.
Two piece bathing suits with playful, daring prints are not only ​​Spring/Summer 2023 print trends, but are also going to be popular for swimwear in the upcoming seasons, thus a go-to for many consumers.

6. Cut Outs
From couture and luxury swimwear all the way to ready-to-wear, cut out styles or asymmetrical designs are making an appearance in every brand's collection of one piece bathing suits.
Depending on the design, there are plenty of ways to look risqué and still elegantly show some skin. These eye-catching features add visual interest to any swimsuit.
Ready to make next summer the hottest one yet? When developing your next swimwear line, remember to consider 2024 trends on fabrics, detailing, and finish in an effort to get the most impact for your designs.